The existing situation
With the multiplication of video content for the reasons we know (simplicity of production, attractiveness of the format, effectiveness to make a presentation or a demonstration…) the question arises of how to best integrate a video in an email. The most used methods are the following :
attaching the video file
send a link to a YouTube video
sending a download link via WeTransfer, Smash or similar
All of these methods have flaws, which they often accumulate: large volumes of data transfers, storage on messaging services, cumbersome multi-step process, lack of information on video viewing, carbon footprint…
The specifications
What makes Streamlike different from other Onlive Video Platforms is that it only integrates features that meet the needs expressed by customers/users. Don't look for a trendy gimmicky feature that might trigger a « Wow » effect… and never be used.
Over the last few months, our customers have told us that they need a simple way to send videos by email, privately and securely, with a personalized skin and traceability of openings and playbacks. Depending on the usage, it appeared that the message must be centered on a main video and be able to include associated videos as well as companion documents. Neither the videos nor the documents should be attached, so as not to weigh down the mailboxes and risk the message being blocked by a weight limit. The main video should be recordable from the webcam or phone camera, recorded by screen capture, created from a file (uploaded) or selected from the Streamlike account.

Uses
As we have seen, Streamailer is justified when the presentation of the message is important, when you don't want to weigh down your mailboxes, when the message must be secure and when you want to know what has been read and played.
There are four main categories of use, but they are not limited:
Marketing, to « package » and enrich a product or service presentation video
Collaboration, to communicate secure videos and private documents to colleagues
Events, when inviting to a live or simulcast session (StreamOut)
Assistance, after-sales service, when it comes to answering a technical question in video
Creating a Streamail, in 4 steps + 1
The first time you use Streamailer, your avatar and contact information will be identical to what you have defined for the Streamlike interface. You can customize the colors of your interface, choose a language and indicate new contact information, which will appear as a signature in your Streamails.
Contact information
You may want to customize the contact information of your Streamail. The options are :
Your name
Your company
Your job title
Your reply email
Your phone number
Your website address
Your Twitter profile
Your LinekdIn profile
Your Skype ID
Note that the logo that will be displayed in the header of your Streamail is the one that is set for your Streamlike account and that any administrator can update.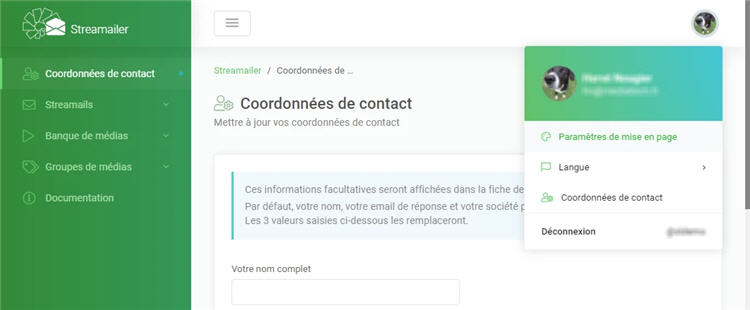 Create a Streamail in 4 steps
You can list your Streamails to consult the statistics or create a new Streamail. It is at this stage that you access the 4 steps of its creation:
The selection of the main media
Selecting a media group (optional)
The addition of attached files (optional)
The body of the e-mail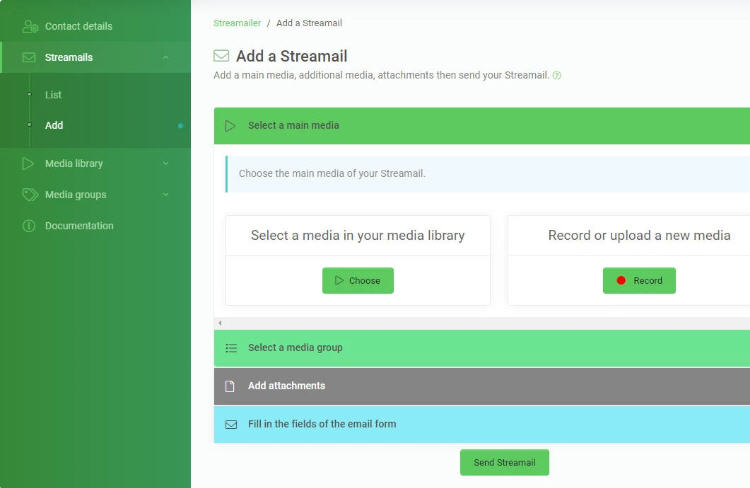 In step 1, you can either select an existing media (audio, video, recording, live, Streamout), or create a new media (webcam recording, screencam or upload).
In step 2, you can either select a media group created for a previous Streamail, or compose -and save- a new media group.
In step 3, you can attach up to 5 files or documents of type .pdf, .csv, .doc, .odt, .ods, .otp, .odp, .ppt, .pptx, .txt, .xls, .docx, .xlsx, .gif, .jpg, .jpeg, .png
In step 4, you can paste in a list of email addresses of recipients separated by a comma or semicolon. Each recipient will receive the Streamail as if they were the only recipient. Before sending, you can choose to be notified of each Streamail reading and you can choose to secure the Streamail so that it cannot be forwarded.
The rest is self-explanatory.
Here is an example of Streamail as it will appear in the mailbox of your correspondents …