There is a climate emergency and it is time to make choices. What does this have to do with online video? Let us explain.
The visitor's choice
Here is what is displayed on a website that is GDPR compliant and asks its visitors and subscribers for their consent to the deposit of cookies before displaying a video: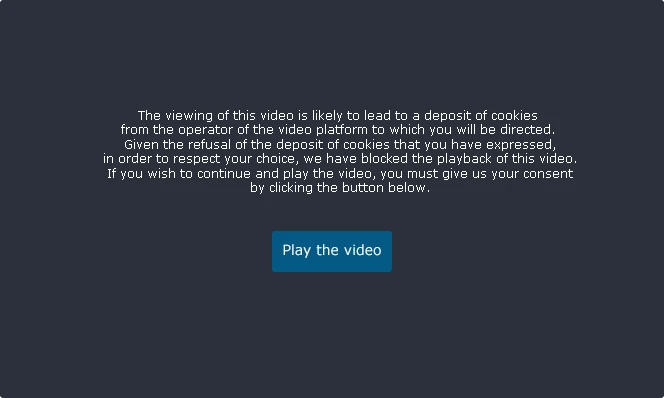 The text is already long but what is not said is that by accepting the deposit of cookies, we offer our personal data to the video platform that will resell them to its customers. The consent is not only about advertising targeting.
What if the environmental impact of the video we are going to watch was also explained? Its copy on multiple datacenters throughout the world, its transcoding in a multitude of exotic codecs, its lifetime maintenance in high availability, its amount of data transfer amplified by recommendations and automatic startup, its unmeasured volume of GHG emissions, etc.
How many new data centers are being built to ensure that little-viewed or obsolete videos hosted on social networks will still be viewable in 10 years and will still start in a fraction of a second?
Some people may argue that these data centers will be built in polar regions so that their cooling requires less energy…
The broadcaster's choice
Internet users upload videos on social networks without thinking about it because it's free and because they don't know the consequences. For a majority of people, « bandwidth » is an immaterial, almost free and unlimited resource. They don't imagine that transfering data over worldwide networks involves a whole chain of electrical equipment upstream of the smartphone or the computer.
Faced with all the increasingly visible consequences of global warming, can a broadcaster still look the other way and use social networks or instant messaging for business purposes, just because it is free?
Free services are paid by the visitors, via their personal data or advertising. Their business model is therefore based on a maximum audience. Digital sobriety is not in their interest.
Professional solutions come at a cost, but which companies use free messaging services for their corporate mail?
Professional video platforms (EVP = Enterprise Video Platforms, VPaaS = Video Platform as a Service etc…) guarantee the control of corporate content, whether it is produced by the company (Brand Generated Content), by its employees (Employee Generated Content) or by third parties (User Generated Content).
Eco-responsible content producers should display this type of statement when hosting their professional videos on social networks. This would be perfectly compatible with the consent mechanisms of the GDPR: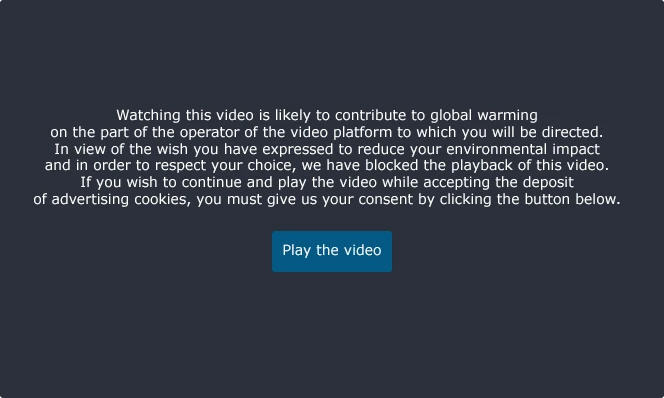 Or else
Or eco-responsible companies could choose a professional solution that allows them to implement best practices and solutions for more digital sobriety (which also reduces their costs), that measures their GHG emissions and that sequesters the carbon equivalent of their residual emissions by planting forests. To date, Streamlike is the only platform to check all these boxes.
By doing so, French communities could anticipate the application of the REEN law aimed at reducing the environmental footprint of digital media, which was adopted in November 2021 by the French Parliament. This law will soon require cities with more than 50,000 inhabitants to set targets for reducing the environmental footprint of digital technology and measures to achieve them.
Isn't it time to impose this same discipline on yourself and rethink the management of your online videos, whether live or on-demand?
Practicing responsible streaming will not prevent droughts, forest fires or glaciers melting. The environmental impact is marginal, but the consequences of not rethinking one's uses are heavy. Corporations must set an example.
In the construction industry, dumping rubble in nature because it is free sets a bad example. It will be quickly imitated. Bringing them to waste treatment centers has a cost, but it is the right thing to do.
There is always a choice.
To learn more about ways to reduce the impact of your online videos, contact us.